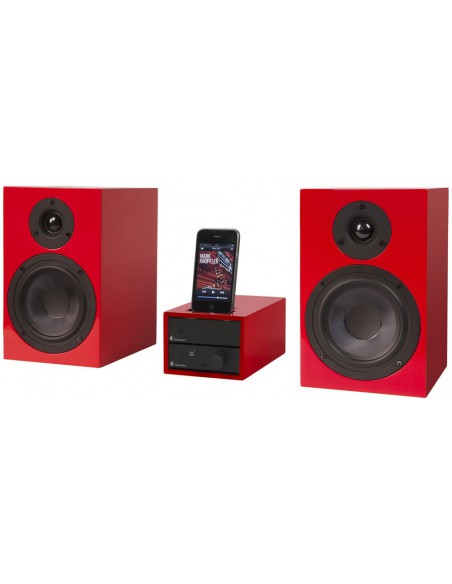 Set "Micro-Hifi-System" includes all you need:
Receiver Box S integrated amplifier & FM tuner
Dock Box S Fi iPod/Pad/Phone dockingstation
CD Box S CD player
Control-it IR system remote
Speaker Box 5 audiophile 2-way speakers
Design Box Acryl 4iP stylish acrylic component rack
AT-SP15T-3,0m speaker cables (pair)
AT-BA002 8x Banana plugs included
AT-RCA10-0,25m RCA-interconnect
AT-Port10-0,5m 3,5mm>RCA-interconnect
• Complete micro-sized stereo audio-system  
• Audiophile grade components:  
  ⇒ iPod/Pad/Phone dockingstation  
  ⇒ Slim-line CD player  
  ⇒ Receiver (FM tuner & amplifier)  
  ⇒ 2-way bookshelf speakers  
• Faceplate of components in silver or black  
• Speakers available in red, white or black  
• System remote control included  
First-class audio from a compact sized system!  
Enjoy your valuable CD collection, or audio files from your iPod - micro hifi system is small in size, but big in sound and will please everyone's ears. Composed around the audiophile "Receiver Box S" with built-in FM tuner and the award-winning compact speakers "Speaker Box 5", this combination also includes new CD player "CD Box S" and iPod dockingstation "Dock Box S Fi". You will get surprisingly natural audio playback from digital music sources and FM radio, even when compared with audio systems costing twice or more!  
This package includes a system remote control and all necessary components, cables and rack!  
16 other products in the same category: