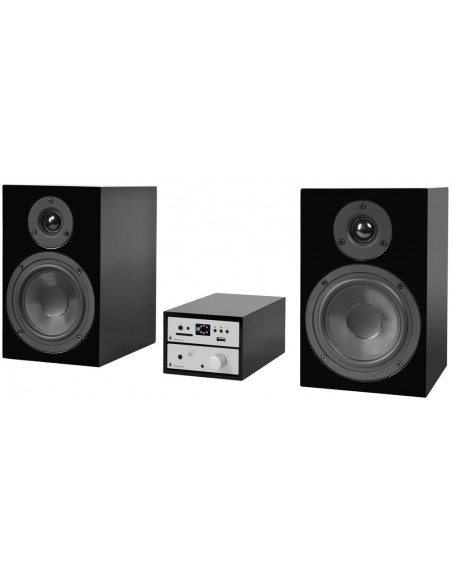 Set "Mediaplayer" includes all you need:
Stereo Box S integrated amplifier
Media Box S USB & SD audio pla
Design Biox 2 Acryl Rack
Speaker Box 5 audiophile 2-way sp
AT-SP15T-3,0m speaker cables (pair
AT-BA002 banana plugs
AT-RCA10-0,25m RCA-interconnect
• Micro-sized stereo Hifi-system for digital music playback  
• MP3, WMA, AAC music with no need for PC, Mac  
• 2 digital inputs on Media Box S  
  - USB 2.0 Hi-speed (hard disk drive or stick)  
  - SD (Secure Digital up to 32Gb)  
• 1 additional analogue input (use with FM-tuner, CD, …)  
• Audiophile grade amplification  
• Audiophile grade compact speakers  
• Faceplate of components in silver or black  
• Speakers available in red, white or black  
• Also available: Design Box "the butler 2.1"  
* Hear your favourite music stored on:  
  • USB hard disk drive  
  • USB flash drive  
  • SD card  
… with no need for switching on PC or Mac!  
Listen to it using the worlds best micro-sized hifi system!  
Additionally you can connect 1 analogue sound source.  
This package includes all necessary components, cables and rack!  
16 other products in the same category: